Are you looking for a fast-paced, utterly enjoyable family game that is easy to learn? Avocado Smash will suit even total beginners or small kids. This slapping card game is all about spotting and smashing. Check out the Avocado Smash rules below.
If you're looking for ideas for game night with your friends or family, snapping cards are a great choice. They are simple, dynamic, and naturally, result in many funny moments. No wonder these are often the very first card games we start playing as children.
Avocado Smash is one of the newest additions to this category. Still, it has already achieved quite an impressive acclaim, including receiving the PureWow's 2021 Happy Kid Award in the Best Card Game category.
Not sure how to play this simple snapping game? This article will teach you all you need to know.
This Avocado Smash rules guide will cover the following:
What is Avocado Smash?
What you'll need to play Avocado Smash
Avocado Smash Rules
How to play Avocado Smash (Video Tutorial)
FAQs
Other Similar Games to Avocado Smash (Our Guides)
Continue reading for the complete instructions on how to play Avocado Smash.
What is Avocado Smash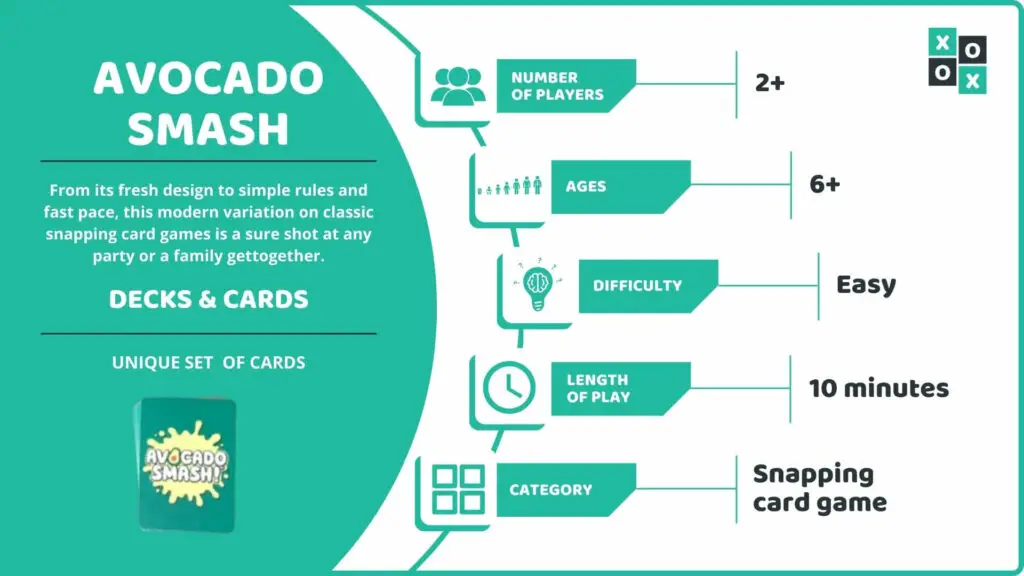 Avocado Smash is a dynamic card game with simple rules and inventive design. Although this family-friendly game by Ridley's was first introduced only in 2018, it is basically just an updated version of traditional snapping games that are often played at parties or in pubs.
One of the most appealing aspects of this game is its simplicity. You don't have to learn elaborate strategies or possess any particular skills to master Avocado Smash. Just focus and prepare to react fast when the right moment comes.
Avocado Smash is an excellent choice for family game nights with smaller kids since it trains their perception, focus, and motor skills in a fun and exciting way.
Number of Players: 2+ players
Ages: 6+
Difficulty: Easy
Length of Play: 10 minutes
Category: Snapping card game
Similar to: Hit the Deck, Irish Snap, Slapjack
Main Objective: Players try to get rid of their cards as soon as possible by reacting fast to special cards and matching combinations.
Why We Love It: From its fresh design to simple rules and fast pace, this modern variation on classic snapping card games is a sure shot at any party or a family get together.
What You'll Need to Play Avocado Smash
All you need to play Avocado Smash is included right in the game set. 
Our Pick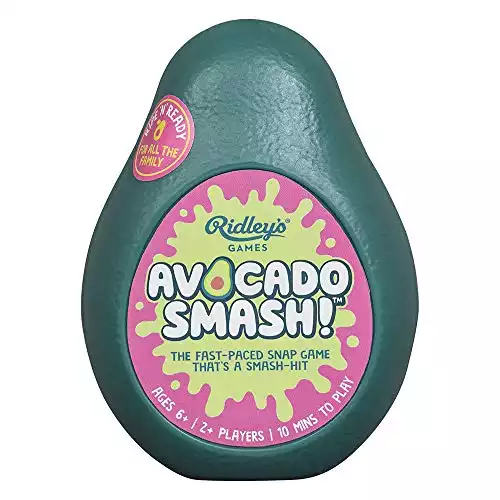 The stylish three-dimensional plastic container resembling natural avocado is compact, light, and water-resistant, making Avocado Smash an ideal travel game too.
Here's the complete list of game contents:
60 game cards with numbers (1 to 15)
10 special game cards
Set of instructions
Plastic avocado-shaped storage and travel container
Avocado Smash Rules and Gameplay 
If you like straightforward games that center around action and quick visual perception instead of complicated strategies, Avocado Smash is a great choice. Here are the few basic Avocado Smash rules explained in detail.
Starting the Game
First, sit around the table (or other, preferably firm surface of your choice) and deal all the cards in the deck evenly among the players' bottoms up.
People sometimes wonder how many players this card game is actually intended for. The package says 2+, so it could be 2, 5, 7, or even 20.
Based on my experience, however, it is excellent if each player gets at least 15 – 16 cards from the deck, making four or five players an ideal setup. Nevertheless, if you like spicier and shorter games, a larger group can enjoy it too.
You're ready to start playing immediately after you deal all the cards among the players.
How to Play Avocado Smash
Now, when each player has their cards on the table, choose the one that will take turns first. Typically, this should be the youngest player, but you can also decide otherwise. 
This is how the game proceeds:
The first player takes an upper card from his pile and places it in the middle of the table facing up. While doing it, the player loudly counts "one avocado."
Next, in clockwise order, other players continue placing upper cards from their piles face-up over the card in the center, forming a new pile. 
With each new card, players continue counting avocados aloud ("two avocados"; "three avocados,"…etc.). 
At first, it seems like you don't need to pay much attention to the numbers on the cards. But the real action begins when a player uncovers some of the special cards or combinations.
Smash! and Special Card Combinations 
Avocado Smash is primarily about good perception and lightning-fast reactions. So, whenever a new card is turned over, pay good attention to the number or writing on its face: 
When a player finds a "Smash!" card, everyone must quickly smash their hands on the pile of cards in the center, shouting "Smash!".
The last one to do so must take the whole pile of cards from the center, turn it bottoms up, and place it under his pile.
The same situation occurs when two cards of the same value meet at the top of the central pile (e.g., 8 and 8, 10 and 10, and so on.), OR when the number on your card matches your counting(e.g., your card shows number 3 exactly when you're supposed to count "three avocados"). 
Again, players smash the pile in the center, shouting "Smash!" and the slowest one takes the whole pile.
Other Special Cards
Not all of the special cards you'll find in Avocado Smash result in smashing and shouting. In some instances, doing this can even lead to your loss. 
Here are the additional special cards and their meanings:
Change direction is another special card that mixes things up in this game. As its name implies, it forces the players to take turns in the opposite direction.
When you find a card saying Guacamole! everyone must shout "Guacamole!" WITHOUT smashing the cards on the table. The last person to do so is a loser and takes the whole pile. The same thing happens if you accidentally smash the pile.
Optionally, advanced players (or older kids) can reverse counting when they find the Guacamole card ("three avocados"; "two avocados,"…etc.).
The game continues until some of the players get rid of all the cards. 
Avocado Smash Scoring
The Avocado Smash game doesn't involve any points or score counting, making the whole game perfectly straightforward. The main goal is to get rid of all your cards as fast as possible.
BUT – this is not enough to win this game. Once you run out of cards, you only get to the finale. Your last task is to perform one final "Smash!" at the right moment. If you succeed, you're officially a winner.
It is not uncommon to see multiple players in the finale. The ultimate winner of the game is whoever smashes the cards at the right moment first.
Once you master the original game, you can also try the new Avocado Smash Party edition, which is even more fun.
Additional Notes to Avocado Smash Rules
Here are a few more things you need to know about the Avocado Smash rules before you start playing:
Whenever multiple players make mistakes simultaneously (e.g., they smash the cards when they shouldn't), they divide the pile of cards equally.
When you count up to 15 avocados, you start counting from 1 again.
When you find two Change Direction Cards in a row, it is also perceived as a Smash! 
If you come across a double Smash!, these erase each other, and the game continues without smashing (e.g., you match two cards with value 3 while also counting "three avocados). 
How to Play Avocado Smash – Video Tutorial
Avocado Smash Frequently Asked Questions
How many cards do players get in Avocado Smash?
At the beginning of each game session, evenly deal all the 70 cards among the players. You don't have to count the cards, though, as it usually won't make much of a difference if some players have one more or fewer cards than the others.
How do you play the game Avocado Smash Party?
Avocado Smash Party edition in an extended version of the original game that comes with additional cards and even more exciting rules. This time, players must collect tasty toppings for their avocado toasts each time they hit the "Smash!" card.
Can you play Avocado Smash with small children?
Absolutely. This game is officially suitable for kids aged six years and more because it involves some numbers and reading. Nevertheless, since cards are also visually distinguishable, even younger kids should enjoy this game.
Other Similar Games to Avocado Smash (Our Guides) 
If you enjoy Avocado Smash, make sure to check some of these similar family-friendly card games too:
Throw, Throw Burrito Card Game rules (coming soon)